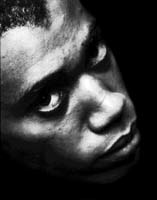 Owner of the brilliant
Planet E
label, probably the most important name in the Detroit 2nd generation of djs and producers, following the futuristic lead of originators
Derrick May
and
Juan Atkins
. He began recording at the turn of the 90's, and produced a number of successful albums, using a number of aliases to release innovative ambient, techno, breakbeat and future jazz sounds. One such alias,
Innerzone Orchestra
, issued "
Bug in a Bassbin
" in 1992, the track largely responsible for moving drum 'n' bass away from the sounds of hardcore and ragga. Under the alias of
Paperclip People
has released his most danceable works like "
Throw
", and he has remixed for and collaborated with numerous artists such as
The Orb
,
Dave Angel
,
Yello
,
Depeche Mode
,
Scan7
,
System 7
,
Bandulu
,
A Guy Called Gerald
,
Laurent Garnier
, etc...
His new release is "
Carl Craig The Album Formerly Known As...
"
A triple pack vinyl pressed on the classics label accompanying with a gate fold
Planet E
album art jacket. True master of Detroit techno steps up again and shows us his old skool techno side, which made him so popular in the first place. Though this album has been released before as ''
Landcruising
'' some ten years ago, it has been completely remastered and reworked. It also features a new track ''
Sparkle
'' as well as new ambient versions of ''
Teknology
'' and ''
Home Entertainment
''. This music is timeless anyway and there's plenty of people who missed out on this first time around. An essential piece of Detroit music.
You can find the Cd release,too, on the label
Rush Hour Recordings
.
-The Track Listing:
1. Technology
2. They Were
3. Mind Of A Machine
4. Science Fiction
5. One Day Soon
6. Landcruising
7. Einbahn
8. Home Entertainment
9. Sparkle 10. A Wonderful Life
11. Technoloambient (Max Dub)
12. Home Entertainment (Caya Dub)
Permalink :
: Visit module main site :